Peirson Meyer Wines were born from a friendship that was formed in early 2001, when Lesley Warner-Peirson, her husband Alan Peirson, and Robbie & Shannon Meyer met at Peter Michael Winery.  With a shared passion, their first wine, the L'Angevin Russian River Chardonnay, was produced in 2001.
Today, Peirson Meyer crafts small lot wines sourced from Sonoma and Napa, and made to reflect the land.
Starting with the 2014 Rosé of Pinot Noir, with only 50 cases (2 barrels) produced, winemaker Robbie Meyer really enjoys the use of native yeast.  In this wine, Pinot Noir clones 777 and 828 from two Sonoma County vineyards create this pale pink princess with rose petals, ripe peaches and berry coulis.  An elegant and restrained rosé that deserves to be the centerpiece of a summer day.  $32
While Peirson Meyer is known for Pinot Noir, the 2013 Ritchie Sauvignon Blanc comes from a cooler site where the grapes ripen more slowly.  Using the native yeast and a gente pressing of whole clusters, this wine is aged in neutral oak.  Bursting with tropical melon and juicy pears, the minerality shines through with a chalky, floral finish. $30
In contrast, the 2013 Ryan's Sauvignon Blanc comes from a much warmer site in Napa Valley's Oak Knoll district, and produces a bolder, more tropical style of wine.  Native yeast fermentation reveals dense apricots and honey, with slight banana notes.  $30
One of the highlights of our tasting experience was the ability to taste three chardonnays side by side.  Doing so allows us to really see the differences each site makes, as well as the nuances of wine making such as barrel selection or yeast selection.
First, the 2012 Russian River Valley Chardonnay.  Aged in 45% new French Oak, and fermented with native yeast (are you starting to see the pattern here?), it is a blend of three vineyards.  Robbie allows malolactic to complete naturally, and uses the native yeast to his advantage, creating a natural, and rich wine.  Viscous and replete with baked apples and nutmeg.  $38
The 2012 Sophia's Chardonnay comes from a site in the Russian River formerly known as the Sullivan Vineyard.  With 40 year old vines located near Graton, in the west of Sonoma County, this wine is nutty and cirrus driven, with preserved lemons, caramel, vanilla and fresh cream.  $44
The 2012 Heinz Vineyard Chardonnay from the Sonoma Coast appellation is physically near the Sullivan Vineyard, yet worlds apart.  Restrained and clean, with Asian pears and graphite.  This wine is clean and focused.  $55
Finally ,we were treated to a trio of Pinot Noirs, each one unique, but with some wonderful similarities.
2012 Russian River Valley Pinot Noir
 is classic Russian River, with dark forest floor, cola, and cherry notes.  Holiday baking spices dance on the tongue in this rich Pinot Noir.  $44
In the small town of Graton, the Miller Vineyard turns Russian River on it's head by offering a lighter style of Pinot Noir.  The
2012 Miller Vineyard Pinot Noir
has bursting black cherry, root beer, and raspberry flavors with cracked pink peppercorn aromas.  The savory aspect of this wine with mushrooms and cedar flavors give it an enchanting profile that is sure to please.  $50
In contrast, the
2012 Bateman Sonoma Coast Pinot Noir
comes from the Sonoma Coast region north of Miller Vineyard, and gives this wine brighter acid, and a more masculine, defined structure.  Savory, earthy funk in all the best ways, the Bateman wafts bergamot and tangerine, with a hint of tomato leaf from it's cool hillside foggy lair.  This elegant wine is an instant classic.  $60
Pierson Myer also producers a lovely Merlot and and Cab Sav, but for these purposes, I'd stick to the Chardonnay and Pinot Noirs.  These are perfect for your holiday table, and gift giving!
Thank you to the good folks at Peirson Meyer for hosting us in their gorgeous vineyard house, high on top of Howell Mountain, as well as Relish Communications and Michelle Yoshinaka.  Make a point of seeking out these wines for your table, you won't be sorry!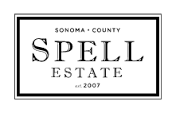 Wandering the aisles of the annual Pinot Days in San Francisco is a combination of old friends, new discoveries, and random skee ball shooting.  This year, there was a new venue, new wineries, and new tastes abounding, of which a few really stood out.
I fully admit that I stopped by the Spell Estate table, simple for the reason that I had never tried them.  When approaching events of this size, I often target those "new to me" folks, of which I am unfamiliar.  I was happy that I had the opportunity to do so, because Spell Estate really is a special find that I have on my "must buy" list for Pinot Noir now.  After chatting with winemaker Andrew Berge, I knew that I was excited to taste the full line up.  Thanks to
General Manager Allisun Groat, I was able to taste the large variety that Spell Estate offers and here are some of my notes.
Founded in 2006, Spell Estate was inspired by Bill & Tiki Spell's love of Pinot Noir.  Committed to delivering the best expression of Pinot Noir possible, they focus on the vineyards to create world class Pinot Noir.
Engaging winemaker Andrew Berge, who grew up in Europe and is deeply indoctrinated with the wine & food lifestyle, was a smart move for the Spells.  With a depth of experience in winemaking, Andrew is passionate about his wines.  With Spell, as well as his other label La Poutchine , Andrew can extract the expression of each microclimate and terroir as detailed as small patch of vineyard on a steep slope. With each winery comes a unique style, both created and ever evolving by Andrew Berge.
 2013 Alder Springs Pinot Noir – Located just 12 miles from the Pacific Ocean, the fruit comes from three blocks planted between 1700 and 1900 feet.  The volcanic soils here lend themselves to the earthyly old world character of this wine, will tea leaves, dried herbs, and leather, with a bright garget color.  With the earthy underlying notes, the bright red berry and cherry notes are calling attention to this age worthy example of Mendocino Pinot.
2013 Weir Vineyards – Yorkvile Highlands Pinot Noir – just southeast of Anderson Valley, Yorkville Highlands is the gateway to Pinot country.  The Weir Vineyard is planted between 850 and 1000 feet, with the cooling influences of the coastal fog, giving this wine a brilliant cherry base with macerated strawberries.  A hint of graphite and smoked meat round out the finish.  With just 43% new oak, the wine is balanced and calm with the remaining 50% one year or older.
2014 Umino Vineyard Pinot Noir – a classically bold Pinot, with strong cherry flavors and a rich and sultry mouthfeel.  With the vineyard located in the far western reaches of Sebastapol, in western Sonoma County, the foggy influence moderates the hot summer days creating beautiful acid and structure.
2011 Marimar Estate Pinot Noir – from a vineyard on the true Sonoma Coast, in Freestone, this luxurious wine is bursting with tangerine and bright berry, while the forest floor mingles with honeycomb and graham crackers in the deeper layers.  Delicious for those of us who enjoy acid.
The flagship of Spell Estates Pinot Noir lineup is the 2013 Terra de Promissio.  Just east of Petaluma, the maritime influence in the Petaluma Gap helps to maintain cooler temperatures and slows ripening.  Planted in 2002 to 777 and 115, the Terra de Promissio has a plethora of flavors, from strawberry and raspberry paired with tart cranberry, to classic cherry.  The spicy notes of star anise and cinnamon flow through the edge of toasty oak and coffee, with a finish of dark chocolate.  A truly memorable Pinot to hold on to as long as you can resist!
All wines are $48, except the Terra de Promissio, which is $58.
Make sure you stop by and taste these wines when the opportunity strikes!  Tastings can be arranged by special appointment.
Stay tuned for more on Andrew Berge's other project, La Poutchine!