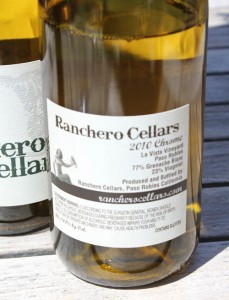 Ranchero Cellars is a small winery, based in Paso Robles.  When visiting for Hospice du Rhone this year, I made it a point to visit with Amy Butler, owner and winemaker for Ranchero on the recommendation of some local friends.
After graduating from UC Davis in the late 90s, Amy started her career in Napa before moving south to Paso in 2002.  Honing her skills at Edward Sellers Vineyards for several years, and still consulting to several local wineries (including my friends at Alta Colina), she started her personal project Ranchero Cellars to create small batches of unique wines, with natural yeasat and minimal processing.  I like it!
The concept behind Ranchero is to pay homage to the cowboys of the Old West, and the early days of Paso Robles, which was, and still is, a ranching community.  You throw in some fun trivia with Amy's old Ford Ranchero, and you have a match made in heaven.
With minimal intervention, and unique style, Ranchero's current Rhone releases offering a refreshing departure from the norm.  I simply loved these wines, and hope you will too.  Amy herself is a funny and charming hostess, and isn't afraid to tell a story or two.
The 2010 Chrome is a Rhone blend of 23% Viognier and 77% Grenache Blanc.  A personal favorite white varietal of Amy's, it's one of mine as well.  To help round out the Grenache Blanc, the Viognier from the same site was blended in to add viscosity and delicious floral notes.  I found pears, stone fruit, and telltale floral notes from the Viognier, as well as bright green apple and Asian pears.  the neutral oak treatment really lets the wine shine through.  Run out and find this wine for your summer parties!
The 2010 Viognier, is made from the same fruit that is blending in to the Chrome.  With 2009 being the first Viognier vintage, Amy experimented with fermentation styles.  For the 2010, this resulted in a third of the fruit being destemmed and fermented on the skins and then fermented in neutral barrels.  Another third  of the whole clusters was pressed in to neutral oak barrels, fermented with native years.  the final third was whole cluster pressed and fermented in a concrete tank.
The finished wine is so much more than the parts, with tons of minerality, brightness and honeysuckle notes.  This is a non-Viognier lovers Viognier!  It's a gorgeous white wine, and avoids some of the bitterness that can be present in lesser Viogniers.  Imagine ripe nectarines and floral aromatics with a honeyed viscosity without being cloying.
Finally, we moved on to the big red of the show.  The 2009 Carignan had half of the fruit fermented on stems, half destemmed, and fermented equally in old, new, and neutral American oak.   This is a big boy, and has tons of dark blueberry, coffee, and tobacco notes.  Deliciously meaty, it was silky with a rough edge.  It reminds me of a girl in a wedding gown with cowboy boots on underneath.  Sneaky one, that.
We had an amazing day tasting with Amy, and I appreciate her hospitality as well as her attitude towards wine making and style.  The Wine Wonkette and Houston Wino and I all walked out with several bottles!  I recently purchased another three pack, since I knew that i needed more of this delicious nectar.
Happy drinking!